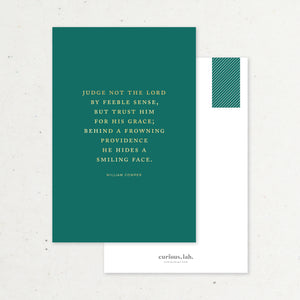 "Judge not the Lord by feeble sense, but trust Him for His grace; behind a frowning providence He hides a smiling face." William Cowper

Even when we can't see or feel God's hand working, trust his grace and merciful providence.

A6 postcard
Dimensions: 102mm (W) x 152mm (H)
Features gold foil detailing
Printed on 300gsm wood-free card paper
Ivory paper envelope included, with easy-to-use peel & seal strip
Part of the 'Hope For Weary Souls' postcard series. Get the full set of 6 for S$15.